CAPS Easy Access Services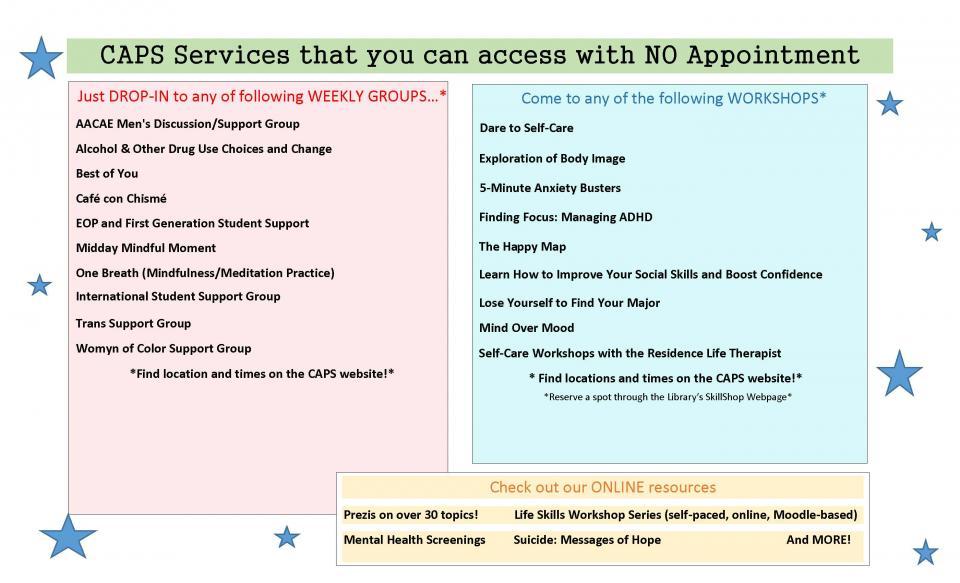 CAPS Services that you can access with NO Appointment
Just DROP-IN to any of following WEEKLY GROUPS…
AACAE Men's Discussion/Support Group
Alcohol & Other Drug Use Choices and Change
Best of You
Café con Chismé
EOP and First Generation Student Support
Midday Mindful Moment
One Breath (Mindfulness/Meditation Practice)
International Student Support Group
Trans Support Group
Womyn of Color Support Group
*Find location and times on the CAPS website!
Come to any of the following WORKSHOPS
Dare to Self-Care
Exploration of Body Image
5-Minute Anxiety Busters
Finding Focus: Managing ADHD
The Happy Map
Learn How to Improve Your Social Skills and Boost Confidence
Lose Yourself to Find Your Major
Mind Over Mood
Self-Care Workshops with the Residence Life Therapist
Find locations and times on the CAPS website!
Reserve a spot through the Library's SkillShop Webpage
Check out our Online Resources
Prezis on over 30 topics!
Life Skills Workshop Series (self-paced, online, Moodle-based)
Mental Health Screenings
Suicide: Messages of Hope
And MORE!