TimelyCare: Expanded Telehealth for Humboldt Students
Announcing TimelyCare!
Student Health and Wellbeing Services have expanded at Cal Poly Humboldt!  We have partnered with a supplemental telehealth service called TimelyCare to broaden our reach.  This means medical and mental health services are available no matter where you live within the U.S. and extend into the periods when Humboldt's Student Health & Wellbeing Services (SHWS) are closed, particularly helpful during the long winter and summer breaks.
What services does TimelyCare provide?
Medical Services (on demand and scheduled)
Mental Health / Counseling Services (on demand and scheduled)
Psychiatry (upon referral from a SHWS provider)
Health Coaching
Group Sessions in Guided Meditation and Yoga, as well as Workshops on various topics such as navigating conflict & healthy relationships, and setting positive intentions that stick.
Peer Community Support: Post your feelings, ask, share, communicae, get suport and provide it to other peers.
What is the cost?
The service is being offered at no cost to our students! (Regularly enrolled students are eligible.)
What does all of this mean?
Whether you're under the weather, anxious or overwhelmed, you can talk to a medical or mental health professional from your smartphone or any web-enabled device (through secure video visits or telephone) ANYTIME.  When SHWS is open, use our on-site services.  When we are closed, use TimelyCare.

Of course, some medical issues require an in-person appointment.  If you require (or simply prefer) in-person care, you should make an appointment with a SHWS provider during our business hours.  
When should I use Medical and/or Counseling Services at SHWS?
Generally speaking, students should continue to use SHWS Counseling and Medical Services during business hours of the academic year for regular appointments.

For CAPS individual or group therapy services, contact CAPS at 707.826.3236 or humboldtcaps@humboldt.edu to arrange an appointment. 

Note: Students have access to up to 12 individual sessions at CAPS over the course of the academic year.  Students will "maximize" the therapy services available to them by utilizing CAPS services during the academic year and using TimelyCare services in the summers.  TimelyCare counseling provides for up to 12 sessions as well.  By using CAPS scheduled counseling during the academic year and TimelyCare counseling in the summers, students now have up to 3x the amount of counseling than they had previously!

For medical appointments, contact Health Services at 707.826.3146 to arrange an appointment.  

Note: If you are having an acute medical problem during the Student Health Center's hours of operation, call us at 707.826.3146 to consult and arrange for an appointment.  We will be able to determine whether a telehealth or in person visit is appropriate and get you scheduled accordingly.  
When should I use TimelyCare?
Use TimelyCare for your medical and mental health needs when SHWS is closed (e.g., evenings, weekends, holidays, school breaks).  

On Demand Appointments are unlimited and are great for any problem suitable for a telehealth visit.  For example, if you develop a rash or an upper respiratory infection on a Saturday, see a TimelyCare provider!  You can even securely upload pictures of a physical issue to share with your provider.
If your schedule prevents you from having regular scheduled visits at CAPS or Medical Services during our business hours, then go ahead and schedule these visits with TimelyCare!  
Students can access up to 12 counseling visits with TimelyCare during a calendar year. 

Students will "maximize" the therapy services available to them by utilizing CAPS services during the academic year (when you are able to meet during business hours) and using TimelyCare services in the summers.

If you are currently residing outside the state of California, and need healthcare / counseling, use TimelyCare.  They have providers in all states.  (There are laws and regulations that often prevent SHWS from being able to provide care across state lines).
If you have particular needs or preferences that are better served by available TimelyCare clinicians (e.g., you prefer to meet with a counselor with specific identity variables that CAPS is unable to provide), your SHWS provider or point-of-contact, may refer you to use TimelyCare services for ongoing appointments during our open hours.  We want you to have a clinician that is just the right fit for you and will coordinate services to come up with a game plan that is suitable.  And just as with our CAPS therapists, you can read through TimelyCare clinician bios and see pics to learn more. TimelyCare will also make referrals back to CAPS when the on-campus service has a clinician speciality or clinical program that is a better option for you.
Use TimelyCare's TalkNow Service for same-day emotional support anytime day or night.  If you need more help than they are able to provide through this service, they may refer you back to CAPS for a crisis session or scheduled appointment.  See more about this service below!
Take advantage of Health Coaching anytime. This is great if you could use some advice in nutrition!
Engage in Group Sessions (yoga and meditation) whenever they are scheduled.
How do I access TimelyCare Services?
Students, the first step in getting started with TimelyCare is to use a web browser and go to timelycare.com/calpolyhumboldt to register with your name and school email address. This will enable you to then schedule visits from any web-enabled device, smartphone, laptop, or desktop.  Download the TimelyCare app to your smartphone so that you can access services away from home!  You can scan the QR code below with your phone's camera to gain access (or simply search for TimelyCare in the Google Play or Apple's App Store).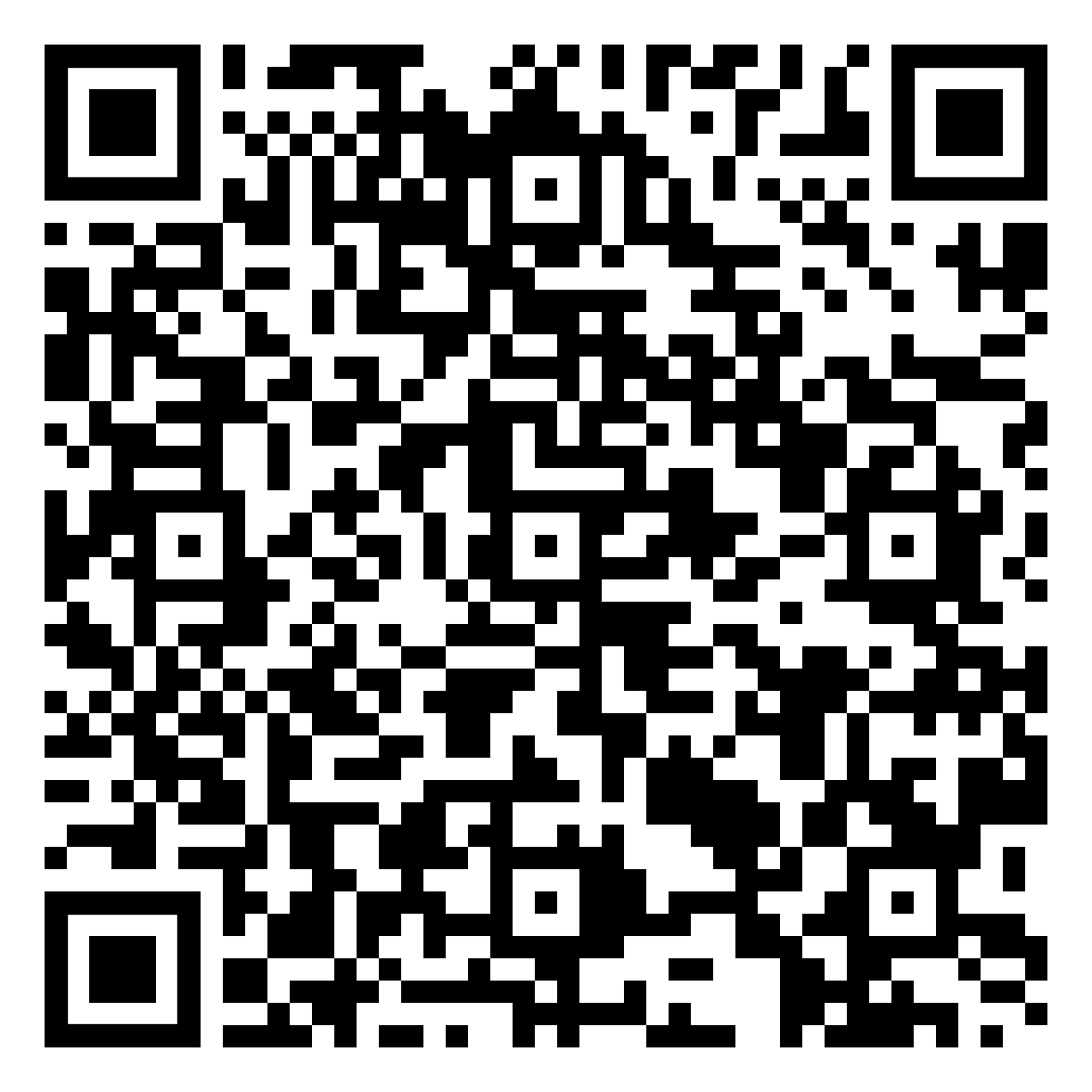 A bit more about the "TalkNow" Service for same-day Emotional Support...
If you are interested in same-day emotional support from a therapist, TimelyCare has you covered.  Simply schedule a TalkNow session through the TimelyCare app or through the website.  Most TalkNow sessions occur within about 15 minutes of scheduling.  CAPS will continue to offer Crisis Services a couple of hours a day for students who need additional help.  The TimelyCare therapist will refer you back to CAPS for this additional help as appropriate.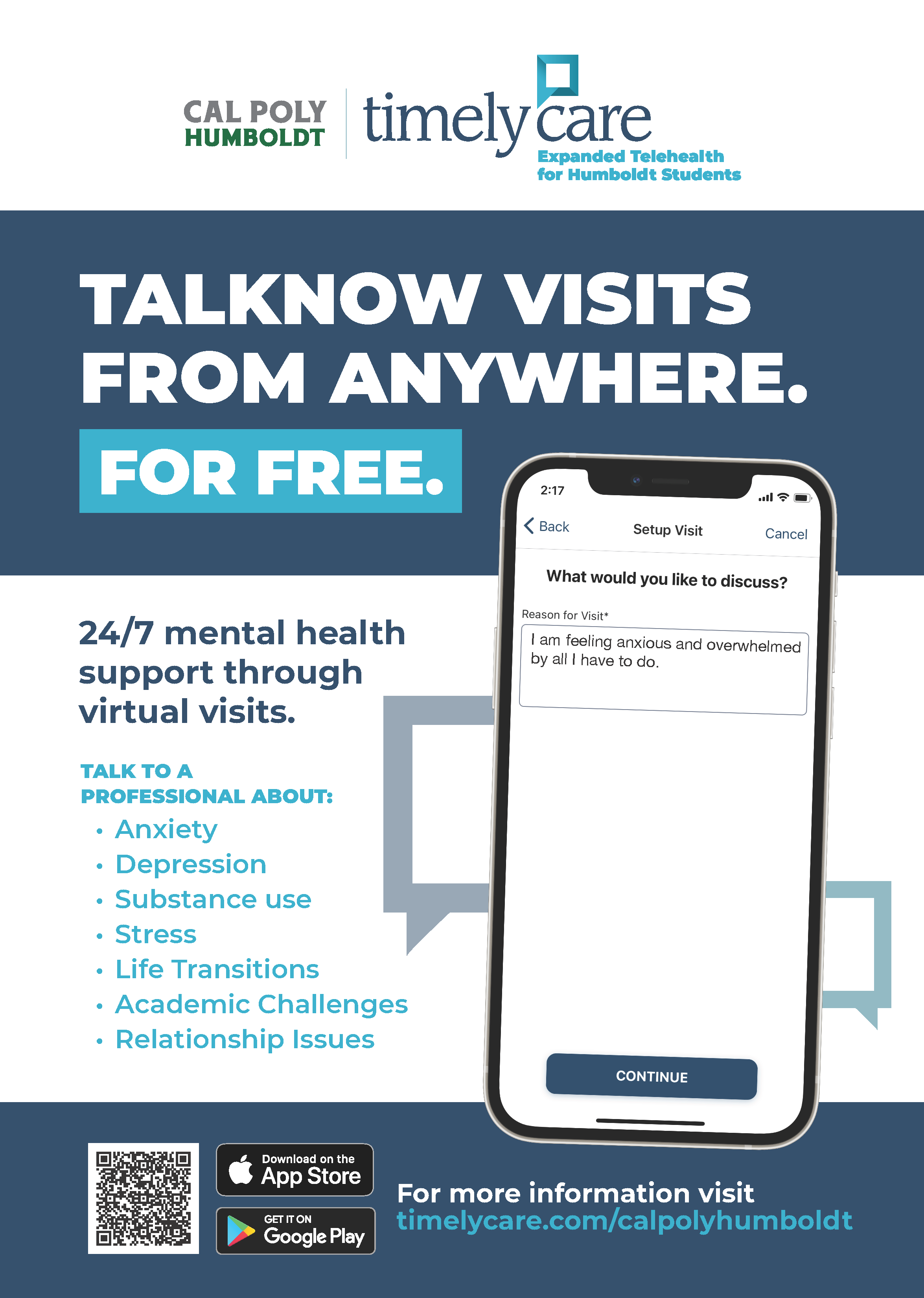 How do the two services coordinate care?
If you meet with a TimelyCare medical provider during the academic year and it is determined that an in-person visit is needed, you will be referred back to our medical services for an appointment.  Similarly, TimelyCare mental health clinicians will refer back to CAPS to transition your care whenever indicated or to supplement your care, for example with a CAPS group or case management services. 

Your providers at SHC will have documentation from your TimelyCare visits so that we can provide well coordinated and integrated care. 

When SHC is closed (such as during university breaks) and you are receiving care through TimelyCare, there will be times when additional supports are needed.  TimelyCare providers know our community resources and will make referrals as appropriate.

TimelyCare medical providers will be able to write prescriptions and arrange for labwork as needed.  They will even provide you with discount RX cards.  

Wait times for urgent care / same day medical needs during peak times at the SHC should be reduced as TimelyCare providers will supplement some of these services at SHC as needed. 
Sharing your Feedback about your experience with TimelyCare 
Giving Feedback to TimelyCare:

TimelyCare is committed to supporting the rights of patients to express satisfaction or dissatisfaction regarding their experience. Patients are provided the opportunity to provide feedback through multiple avenues. The patient may, with or without knowledge of staff, initiate a complaint or grievance directly with administration by contacting the Customer Support Team through phone: 

833-484-6359

, chat or email: 

help@timely.md

. 

The TimelyCare Quality Assurance Program Manager and/or their designee, will review and, as appropriate, resolve or facilitate resolution of complaints regarding the quality of patient care or services received within the system. It is the policy of TimelyCare to respond in a timely and thorough manner to any complaint or grievance made against the organization. Patient feedback, including complaints or grievances, are reviewed for opportunities for improvements and trends that may have led or could lead to a particular situation.
Giving Feedback to SHWS regarding TimelyCare:

We would love to hear your feedback.  Please share your thoughts by:

Talking to your medical or mental health provider at SHWS
Emailing us at health@humboldt.edu or humboldtcaps@humboldt.edu.  (Your email will be directed to SHWS administration).
Calling Dr. Jennifer Sanford, the Int. Executive Director of SHWS to discsuss your feedback (either by phone or to arrange an in person meeting): 707.826.3146.

You can also share your feedback with us by taking this 

brief survey

.