Welcome to Counseling and Psychological Services (CAPS). Our main goal at CAPS is to promote the wellbeing of HSU students through outreach, consultation, and counseling services. We aspire to help students strive emotionally, psychologically, relationally, and intellectually.  
Our Services are available to regularly enrolled students from Humboldt State University. There are no per-session charges for these services.  Please check with us if you are in doubt about your eligibility for counseling services. 
Aside from counseling services, CAPS is active on campus in several ways. We provide consultation, outreach, and education to the entire campus community, and play an important role in the training of new mental health professionals.
We have provided many useful resources and tools on this website to promote your wellbeing and to help you tackle some of the more common life struggles (such as anxiety, depression, dealing with break-ups, etc.). See the self-help section for a long list of topics.  Make sure to check out our Prezis (you'll find a list under "Counsel from your couch" in the right-hand menu)-- these provide information, resources, and many embedded youtube clips.
Services Include:
Intake appointments (to assess issues, discuss resources, and determine plans), single-session therapy appointments (including "Walk-in Wednesdays," a day of walk-in SST sessions), short term individual and couples counseling, informal off-site "Let's Talk" consultations, groups and workshops, information and referral, crisis intervention, outreach, psychoeducation, and consultation.
Confidentiality
Your right to privacy is important to us. We are required to hold everything you say in confidence, except as authorized by you in a signed release or as provided by law.
Exceptions by Law Are:
If we believe you intend to seriously harm yourself.
If we believe you intend to seriously harm someone else.
If we suspect, based on information that you have shared, that a child, dependent adult, or an elderly person is at significant risk for abuse (or is being abused).
If we are court-ordered by a judge to release records.
Hours of Operation / Contact Information
During the academic year, the CAPS office is open Monday through Friday as follows:
CAPS receptionists are available by phone 8 a.m. to 5 p.m.  

CAPS at SHC (main office) can be reached at 707-826-3236
CAPS at BSS can be reached at 707-826-3921

CAPS is open for services (such as therapy, consultations, and crisis services): MWF 8:45 a.m. - 4:15 p.m. and TTh 9:45 a.m. - 4:15 p.m.  We have some evening groups and workshops as well.  See our GROUP webpage for details.
Please note, if you are in crisis and it is outside of normal CAPS business hours, you can reach a CAPS therapist by phone 24/7 on our main line (826-3236).
In emergency situations, you may also call Humboldt County Mental Health at 707 445-7715 or dial 911. If there is an immediate safety risk, you should always call 911 as the police can offer the fastest and best assistance.
Note: During academic holidays and breaks (including the summer months), the CAPS office is closed. You may still reach a therapist by phone at such times if you need immediate help or some assistance with referrals (707-826-3236).
Counseling Services
If you are interested in several sessions of individual therapy at CAPS (and this is your first time coming to CAPS in the current academic year), you will meet with a therapist for an intake session. This 45-minute session helps the therapist get to know you and your concerns. At the end of the session, the two of you will determine the best course of action, including the possibility of individual, couples, or group counseling at CAPS or pursuing counseling services elsewhere. Sometimes all that is desired or needed is few sessions to to process, problem-solve, and learn of useful tools and resources. We offer a variety of workshops and drop-in groups designed to address the needs of many of our students. Your intake therapist will advise you if one of a group or workshop seems like the right "fit."
The initial intake session can be scheduled by phone or in person. You will have intake forms to complete prior to your appointment so please be sure to arrive 30 minutes before you are scheduled to meet with a therapist.
Single Session Therapy (SST) is just what it sounds like-- a single session of therapy that is designed to meet your needs in the moment.  We have kept "paperwork" to a minium.  It should take you no longer than 15 minutes to complete some brief forms.  You will meet with the counselor for 50 minutes and the two of you will focus on what YOU want to focus on. The therapist will help you to clarify your goal/s (while keeping them manageable) and will work hard to help you get a handle on things. S/he may provide education, teach you particular skills, provide tools, help you develop more insight and/or shift your thinking, and may also suggest resources or steps for the future.  
SST can be scheduled up to two days in advance of a session.  It is also offered every Wednesday starting at 10 am on a "walk-in" basis.  These appointments are first-come, first-served and we recommend you come early to guarantee a spot.
"Let's Talk" Consultation 
If you are not interested in ongoing therapy and you are not in crisis, you may want to come talk to a therapist more informally for a single consultation session. This session is designed to provide some immediate help without the "red tape" of paperwork or long-wait times. Paperwork is minimal (a single page) and the session will be more solution-focused in terms of content. Let's Talk sessions happen "off-site" in various locations across campus, including an office in Housing.  Easy access and low key, this is the nature of "let's talk."
Note:  if on-going individual services at CAPS are recommended, you will still need to schedule and complete a regular intake appointment at a later date.
If you are in crisis at the time you come in to CAPS, you should ask to meet with the crisis therapist rather than scheduling an appointment.  Please come to the SHC (main) CAPS office when in crisis.
Generally, a crisis entails one or more of the following:
Having experienced a recent physical or sexual assault or another signficiant trauma.
Your life is currently in danger (for example, due to domestic violence, recent homelessness, alcohol or other drug withdrawal).
Having intention or plans of hurting or killing yourself or someone else. (Or concern about someone else's suicidal thoughts or behaviors).
Losing touch with reality or having otherwise disturbing experiences or behaviors (such as hearing or seeing things that others do not).
On-going Counseling Sessions 
If it has been determined that the right course of action is to pursue on-going services at CAPS, you will arrange the specifics of this plan with the intake therapist. CAPS provides on-going couseling services through a number of modalities: individual, couples, and group formats. If indiviual or couples therapy at CAPS is recommended, there may be a short wait for these ongoing appointments (depending on the time of year and the level of demand on CAPS services).
Group Therapy
Group themes and times vary, please see the listing of activites on our group-oriented pages, Therapy Groups, Workshops, and Drop-In Groups, for information. To get further information about a group, please contact the group leader(s). To sign up for some of our groups you will need to schedule a consultation appointment with the leader of the therapy group of interest. Our receptionist can help to get this scheduled.
Unfortunately, Counseling Services Are NOT Available To:
Extension Students 
Over 60 Program Students
College of the Redwoods Students
Veterans Upward Bound Students
If you belong to one of the above groups and would like assistance in determining the resources that would best meet your needs, we would be happy to help. Call us for information.
Our Location
The main office of Counseling & Psychological Services is located on the second floor of the Student Health & Counseling (SHC) building. This is just northeast of "Library Circle" (at 1 Plaza Avenue). To arrange an appointment, come to our reception office located in room 205 or call us at (707) 826-3236.  We also have a second site across campus at Behavioral and Social Sciences (BSS) 208 and can be reached there at (707) 826-3921.  Counseling appointments are scheduled at both sites.  For emergency care, please use the SHC location.
The CAPS Team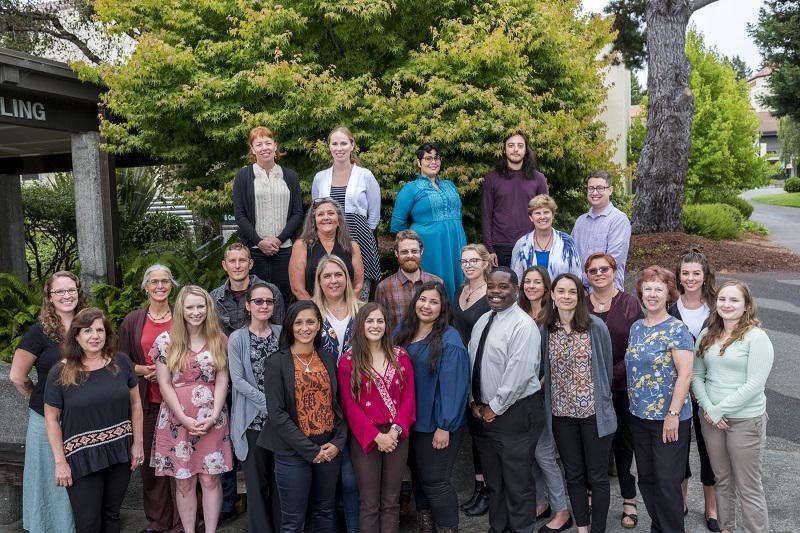 Humboldt County Mental Health Resources
Humboldt County is a rural area and mental health resources are limited, particularly when specialized or more intensive care is needed (such as in the case of eating disorders or significant substance use disorders).  Our county does not have a local Kaiser facility, which is a hardship for those with Kaiser insurance.  To see a listing of local providers and insurance plans that are routinely accepted here in Humboldt, please go to the NCAMHP website.  Know that there are times that the specific mental health services required for an individual are simply not available in our local community. At such times, a student may be best served by taking a break from school and seeking such services elsewhere.  CAPS will always do our best to help with referrals whether local or outside the area.   If you do not have health insurance and could use some help establishing this, please contact Ravin Craig and the Oh Sure program at 826-5228.
Mailing Address & Contact Information:
Counseling & Psychological Services
Humboldt State University
1 Harpst Street
Arcata, CA 95521
Phone: (707) 826-3236 (SHC; Main office) and (707) 826-3921 (BSS)
Fax: (707) 826-5735
Email: hsucaps@humboldt.edu
Email messages are managed by the CAPS office manager & may not be responded to immediately. For acute or confidential concerns please call us rather than using email.